TAKE YOUR SEWING SKILLS UP A NOTCH
Learn stress-free techniques for sewing stretchy jersey fabric.
Get the skills, knowledge and confidence to sew jersey fabric on a regular home sewing machine with this online workshop. Perfect if you want to broaden the range of fabrics and garments you sew. This isn't just the theory - you'll learn as you sew!
The Agnes Jersey Top pattern is included with this workshop.
No overlocker or serger required!
What equipment do I need?
• Sewing machine with an adjustable width zigzag stitch
• Sewing toolkit – a supplies list is included in the workshop
• Fabric
• Computer / tablet / smart phone and an internet connection to stream the videos from
You don't need an overlocker/serger or coverstitch machine for this workshop!
How long will this workshop take?
That's up to you!
The course is broken down into manageable, bitesize lessons that you can take at a pace that suits you. It includes 10 videos, from 3 to 15 minutes long, plus extra written tuition and downloadable resources.
You may like to spread the lessons out over a few evenings or set aside a weekend for a binge sewing session.
This online workshop contains fully captioned video lessons, written tuition and downloadable resourses.
WHAT YOU'LL LEARN
CHOOSING THE RIGHT FABRIC
Understand what jersey is and why you'll love it
How knit fabric differs from woven fabric
Confidently choose the right fabric for your project
Learn to easily calculate knit fabric stretch percentages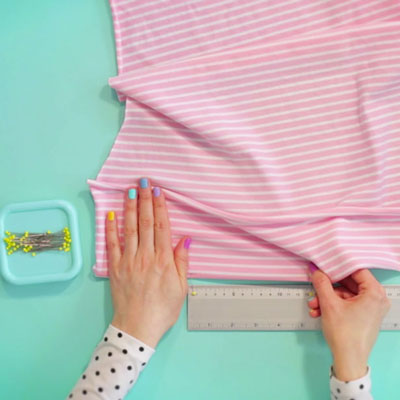 EASY FIT + CUT TECHNIQUES
Find out how to choose your size, fit as you go, and make easy pattern alterations
Tips for laying out jersey fabric to avoid twisted garments
Learn to use a rotary cutter for accurate and speedy cutting
Start sewing tops that are simple to fit!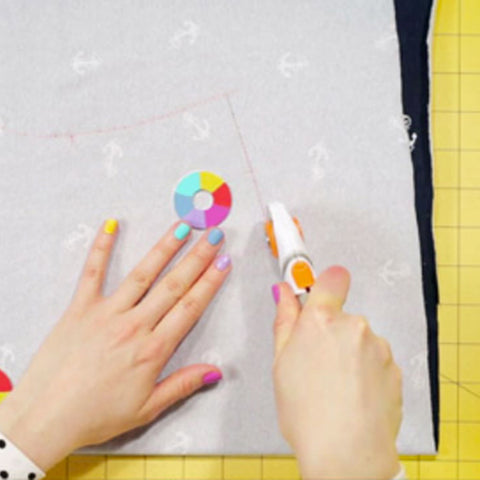 ESSENTIAL STITCHING TECHNIQUES
Get to grips with handling and stitching stretchy fabric on your regular home sewing machine
Learn which stitch settings to use for vertical seams, horizontal seams and topstitching
How to stabilise the fabric to avoid sagging shoulders
Our top essential tools for sewing jersey
Use our downloadable Jersey Sewing Checklist when you need it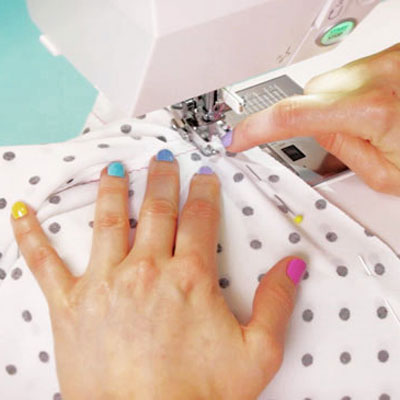 CONSTRUCT A JERSEY TOP
Learn to make a simple jersey top with your home sewing machine
Choose from two techniques to attach and finish a scoop neckband
How to stop your neckband from gaping
Confidently sew seams and hems without the need for an overlocker, serger or twin needle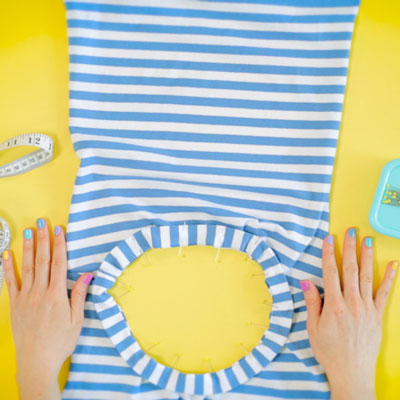 SEW DIFFERENT STRETCH SLEEVES
Learn to insert jersey sleeves on the flat - much easier than set-in sleeves!
Make full length or cropped plain sleeves
Learn to attach both plain and gathered sleeves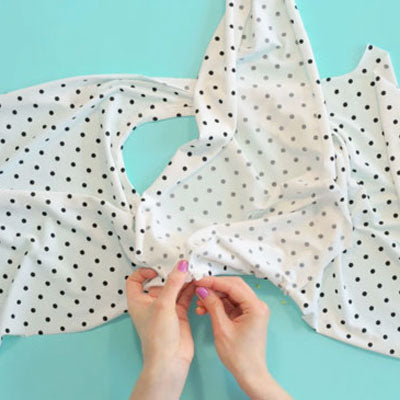 ADD STYLE DETAILS WITH ELASTIC
Learn to stretch and stitch elastic at the same time to fashion pretty design details
Transform a scoop neckline into a ruched sweetheart neckline
Find out how to make stylish ruched sleeves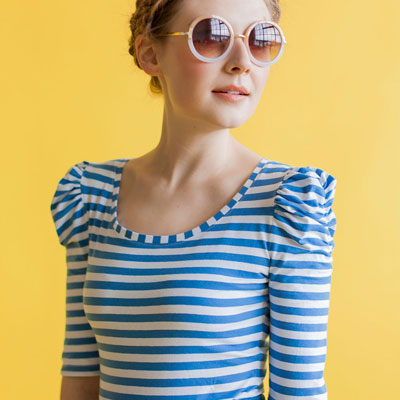 WORKSHOP BENEFITS
1
STEP-BY-STEP VIDEOS
Follow an in-depth programme, structured with our trusted format.
See the sewing in detail with our video lessons!
2
ON-DEMAND ACCESS
Learn at a pace that suits you, any time of day, with no deadlines.
Set your own timetable!
3
LEARN AT HOME
Take the workshop from the comfort of your own home, using your own sewing machine.
There's no need to travel to a class or book a date in your busy diary!
4
GREAT VALUE
Revisit the lessons as often as you like, whenever you need a refresher -
for a fraction of the price of attending a face-to-face class!
WHO IS THIS WORKSHOP FOR?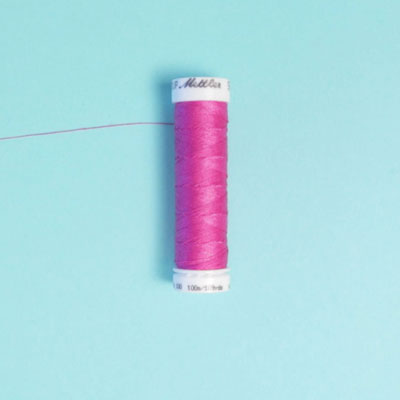 CONFIDENT BEGINNERS
You've sewn a few things already and you're eager to learn new skills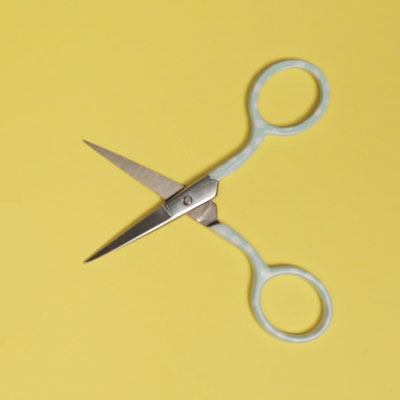 IMPROVERS
You're confident sewing woven material and want to expand your repertoire into stretchy fabric too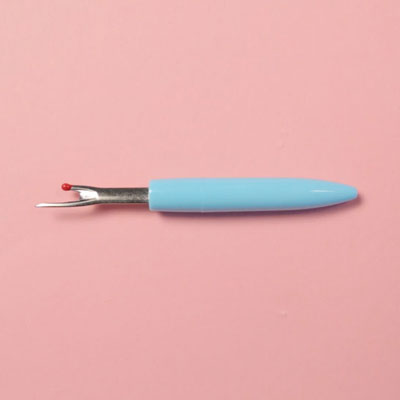 RETURNEES
You've sewn some jersey in the past and fancy a refresher class to get you back into it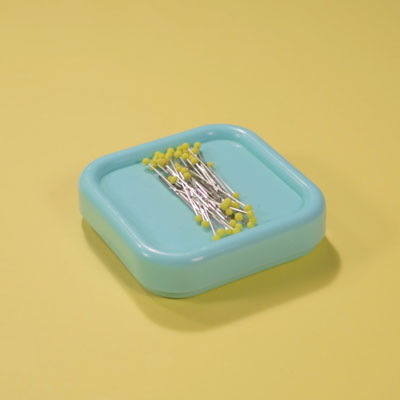 LEARNERS
You've attended a knit fabric sewing class and want a resource to reference at home
MEET YOUR INSTRUCTOR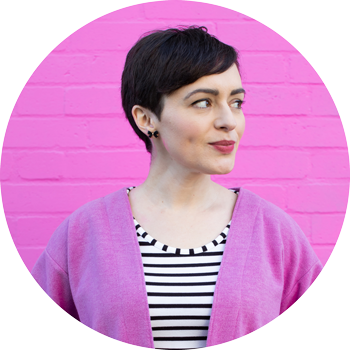 Tilly Walnes is a best-selling sewing author, teacher and founder of Tilly and the Buttons. She has been writing about sewing, designing and teaching for over a decade.
Named 'Most Inspirational Sewing Personality' in the British Sewing Awards, Tilly's teaching is down-to-earth, encouraging and packed full of helpful tips. She loves sewing, and wants you to love it too!
I am delighted with the different techniques and tips that I have gained from this workshop, especially the ruched sleeves and neckline. I have my new favorite top!

Jobena
I don't consider myself a complete beginner yet it was immensely helpful to have video support for all the steps – it demystified the daunting idea of working with jersey. All instructions are clear and enjoyable to watch!

Emilie
This workshop has made sewing with jersey fabric a breeze! All common problems are mentioned with remedies given. It was worth every cent paid for it.

Donna
Thanks for a great workshop! I enjoyed how the workshop and videos were broken up in manageable sections that made everything seem far simpler than I could have imagined just from reading any knit garment pattern instructions alone.

Amy
I'd heard that sewing with knits was very tricky, but Tilly took all the complication out of it and built my confidence to go ahead and just try it. Thanks a lot, it was fun!

Workshop Participant
Sign Up Today
LEARN TO SEW JERSEY TOPS
£49
Includes:
Instant, on-demand access
8 video lessons
Closed captions available on all videos
Written tuition + downloadable resources
Agnes top PDF sewing pattern in sizes UK 6-34 / US 2-30 / EUR 34-62
Buy Now
Learn to sew jersey tops + printed pattern
£59
Includes:
Instant on-demand access
8 video lessons
Closed captions available on all videos
Written tuition + downloadable resources
Agnes top printed sewing pattern in sizes UK 6-34 / US 2-30 / EUR 34-62
PDF pattern files are also included
Shipping is included in the price!
Buy Now